Local Wisdom: When Technology Alter Perspectives of Durian Farmer
Post Date : 29 July 2021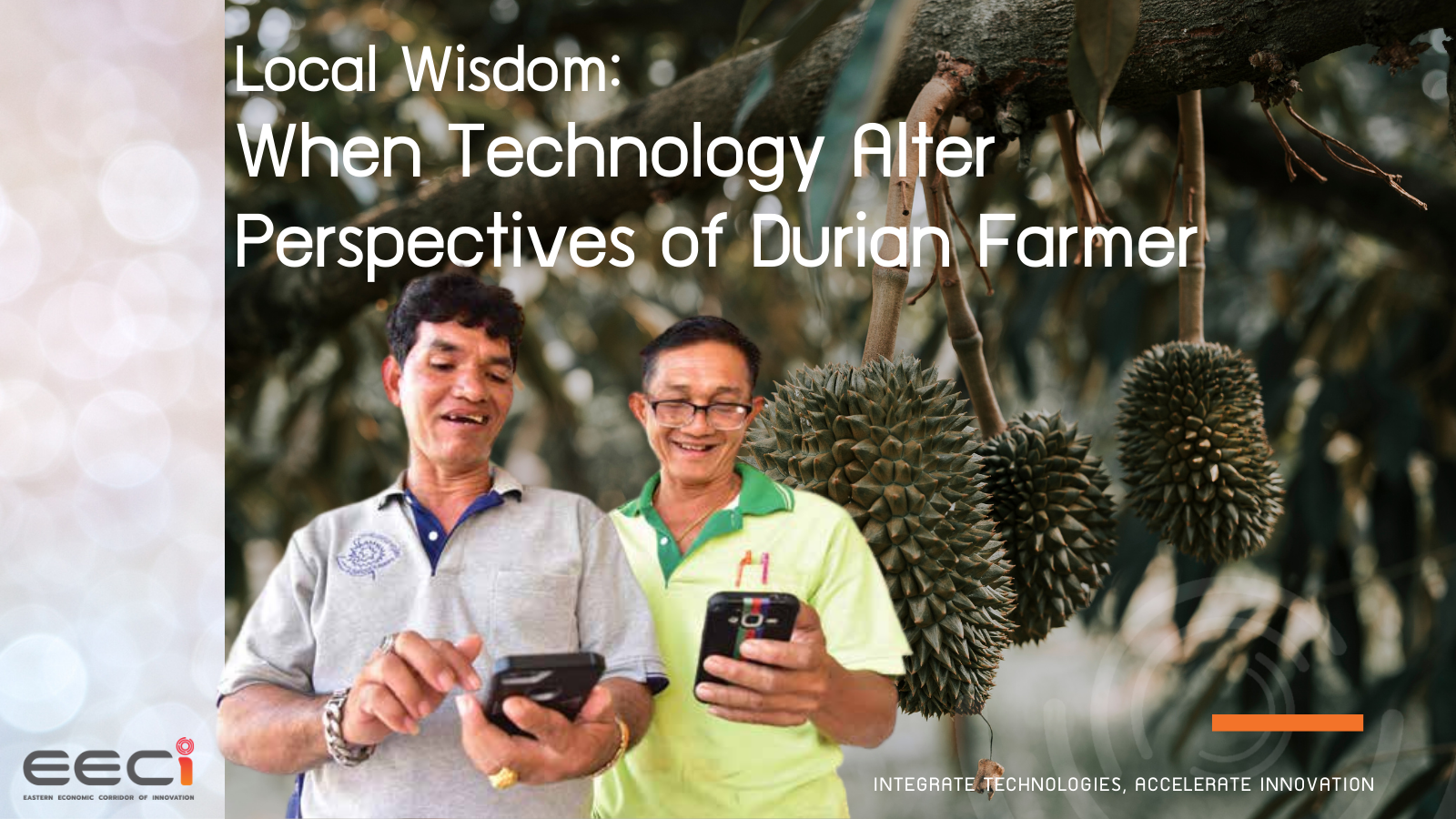 Durian has played an important role in Thai agricultural sector at both local and international level. In 2019, Thailand exported $1,633M (51,035 MB) worth of fresh and processed durian and expected to increase for more than 30 percent in 2020.
Thailand is known at the best location for durian cultivation due to its geological suitability for durian plantation, its best breed, along with knowledge, experiences, and skills that have been accumulated through generations. However, the rise in global demand of durian urge attention in durian plantation in other countries in the region. Vietnam and Malaysia, in particular, have put strong effort in increase productivity and enhance quality of their durian to grow market share of global durian supply. Moreover, China, the world largest durian importer, is now studying and test-grown durian trees in Hainan Island. The area started with 40 durian trees planted in 2014 and in early 2019 Monthong, the most famous durian variety, was successfully bore fruit. China will continue their research and development to adjust the plantation area to better suit the durian cultivation. These dynamics urge Thai farmers to get ready for even stronger competition whilst the major production factors like agricultural water is under supply.
"Water" is the most important factors for durian plantation. The more promising economic value of durian, the more expansion of durian cultivation areas, which will definitely lead to the increasingly demand of agricultural water. Beside durian, the economic importance of eastern region of Thailand also rely on the growth from the development of the Eastern Economic Corridor (EEC) which consists of the three Eastern provinces Rayong, Chonburi, and Chachoengsao. The EEC is primarily intended to accommodate new investments and enhance growth in manufacturing and services sectors which will further a surge in eastern population. Shortage of water will then be the major challenge of the eastern region to cope with the dramatically increased in demand that will trigger conflict between the new economic development and the local residents in agricultural sector.
"Agricultural Water" in the eastern region is accounted for 70% of total water consumption followed by industrial, household, and service sector respectively. However, in the economic impact point of view, one liter of agricultural water consumption generate revenue of 11 Baht, while it increased to 155 Baht in the industrial sector and 333 Baht in service sector (Nipon Poapongsakorn, 2018). From the figures, it can be seen that there is an emergency need in studying the real demand of agricultural water consumption, especially in durian farming. In order to substantially increase water-use efficiency without compromising on the quality of durian, technology plays a major role for the development in the three dimensions of sustainable development: the economic, social and environmental in accordance to the global Sustainable Development Goals (SDGs) of the United Nations to promote sustainable agriculture and to ensure availability and sustainable management of water and sanitation for all.
Somboon Ngamsangiam, owner of Bua Kaew Durian Orchard and Vice President of Durian Quality Improvement Group of Ban Wang Chan Village, Wang Chan District, Rayong Province, started the off-season durian production ten years ago to avoid low price driven by oversupply of durian during peak season. Despite the success in producing off-season durian, Somboon never stops experimenting. He agreed to collaborate with Agricultural Technology and Innovation Management Institute (AGRITEC) by allocating his 2-rai (0.32 ha) land, with 30 durian trees, for a field experiment of "Smart Plant Watering Control and Weather Monitoring System". The system consists of several sensors to make various measurements – soil moisture content, humidity, light intensity and temperature – and a control of irrigation. These parameters are used for orchard management, especially the water input to meet the requirement of each growth stage. Somboon said that durian growers use their observations on weather and trees in combination with their experience to manage their orchards. They are not aware that what they observe can be measured scientifically and this information are really what farmer needed to know.
Somboon had learn how to use the system, testing the sensors in each location and set soil moisture level according to his experience by translating his sense to number. Through trial and error, Somboon was work closely with researchers in learning, adjusting, and sharing information. For over a year, the preliminary parameters used for orchard management that correlating to his sense are obtained. The system noticeably reduces the volume of water consumption from approximately 1,000 liters/tree/day down to just 90 liters/tree/day while yielding better fruit quality. Currently the system has been installed in his entire orchard. Every morning, he shares the system dashboard displaying temperature, moisture and light intensity with members of Durian Quality Improvement Group of Ban Wang Chan as a reference for their orchard management. His Bua Kaew Durian Orchard now welcomes visitors to learn about off-season duration production management and Smart Plant Watering Control and Weather Monitoring System. "This technology is very easy to use. The system enables precision farming, enhancing input efficiency in both energy and water," Somboon says.
As a provider of community development program, EECi supports the sustainable development of industrial and agricultural sectors with innovation; promotes translational research through cooperation and networking of all sectors; and encourage the transformation of traditional farming toward modern farming. EECi believes that this success case will set example and inspire local farmers in acquiring and adopting technologies to become technological based farming. If such technologies extend to all 700,000 rai of durian orchard in the eastern region, it will optimize the agricultural water utilization efficiency, solve the regional major problem of water shortage crisis, ease the water conflict between industrial and agricultural sectors, lead toward sustainable coexistence and water utilization, and will also lead to cost saving for farmer.
อ้างอิงที่มาข้อมูล
วิทย์พลิกชีวิต เติมด้วยใจ ความรู้ เทคโนโลยี (มิถุนายน 2562), สถาบันการจัดการเทคโนโลยีและนวัตกรรมเกษตร (สท.)
http://www.tpso.moc.go.th/sites/default/files/thueriiyn_240863.pdf
The Global Goals For Sustainable Development (www.un.or.th/globalgoals)
งาน "Durian to Go" By สมาพันธ์ชาวสวนทุเรียนภาคตะวันออก (27 – 29 กุมภาพันธ์ 2563)
เกษตรกรกับการใช้น้ำ "ต้นทุเรียน" ความท้าทายในการจัดการน้ำของ EEC (www.kaset1009.com)